Test & Development Center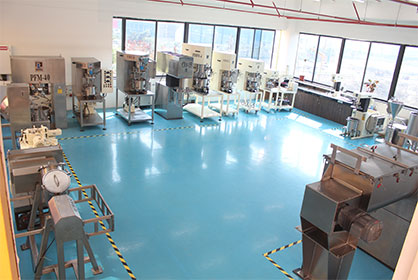 ROSS India's newly developed test lab provides a variety of process-line simulations enabling customers to identify the best possible equipment before making a purchase. The facility will help in identifying customer's exact need and deciding on the best solution for it.
We are now conducting more tests in the ROSS Test & Development Center than ever before. Already the best equipped laboratory in the specialty mixer business, our Test and Development Center was recently expanded. New equipment provides an even broader range of options for testing.
These process-line simulations are invaluable, because they enable our customers to identify the best possible equipment before making a purchase. It also allows us to help them perfect their mixing technique to guarantee that our equipment will deliver the best possible results in their plant.
Today, most process engineers consider quantitative testing a critical step in selecting and optimizing mixing equipment. The ROSS Analytical Laboratory is equipped with sophisticated instrumentation, such as a laser diffraction particle size analyzer, to measure particle/droplet size as well as size distribution.
In the ROSS Test & Development Center, customers work with highly trained lab professionals to simulate their process, test a variety of equipment, and optimize its performance before a purchase is finalized.
If you are not already taking advantage of all the experience and expertise ROSS can offer, call +91 2135 628400/01-ROSS to discuss your needs with the ROSS Technical Services Group. We will be glad to give you more details on our testing program. We can also provide application information to help make your process operation more efficient, and to improve the quality of your products.